Kindle In-Book Navigation
O
ne of the common behaviors of non-fiction readers is to flip back and forth between the pages to reference different parts of the book, re-read parts they marked, or refer back to images and charts. In digital books, that was hard to do, you would start flipping back or jumping around and quickly lose your current reading spot, it was much more difficult to just explore your book. In 2016 we introduced Page Flip, a reimagined Kindle navigation experience that makes it easy to explore books while always saving your place. 
I took on Page Flip right when I joined Kindle after another designer had begun the foundational feature definition and wireframes. From then on, I owned the UX and UI design across the Kindle iOS and Android apps as well as Kindle e-reader and Amazon Fire devices, presenting to executives and senior stakeholders gaining buy-in. And I co-owned the feature definition, research and, marketing. I refreshed the in-book visual design, contributing to the updated Kindle style guide. I defined the "page pin" behavior for flipping back and forth between book pages, explored and user-tested different visual treatments for the pin defining the elements required to represent a page, and worked with engineering to build a widget to help find the best location on the screen for the "page pin".  I refined the designs and details, created design specs for the engineering team, and worked closely to build the changes.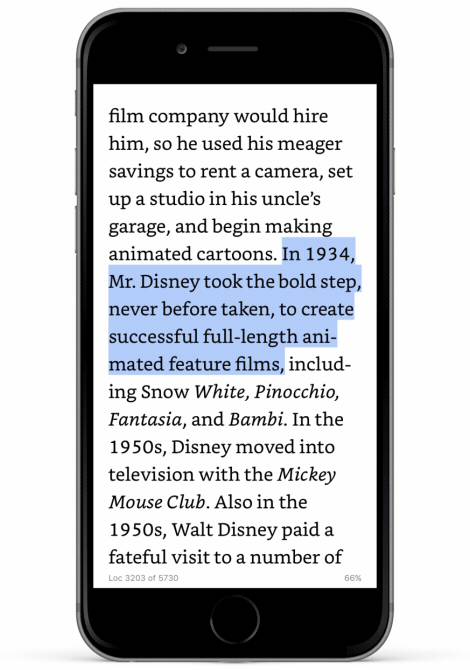 Save your place
Want to reference a chart or map on another page while you're reading? Page Flip "pins" your current page to the side of the screen when you swipe away from it to explore other parts of the book. Tap your pinned page to instantly jump back to it.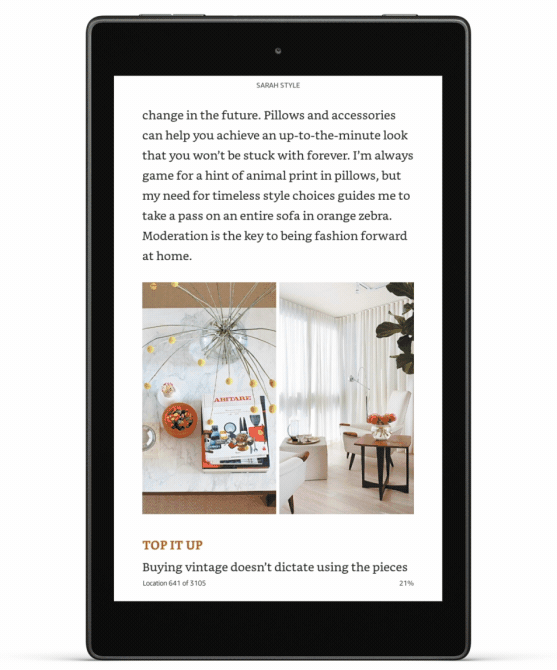 Get a bird's eye view of the book
Looking for a picture or a passage you've highlighted? Zoom out to get a bird's eye view of the book and quickly find what you're looking for.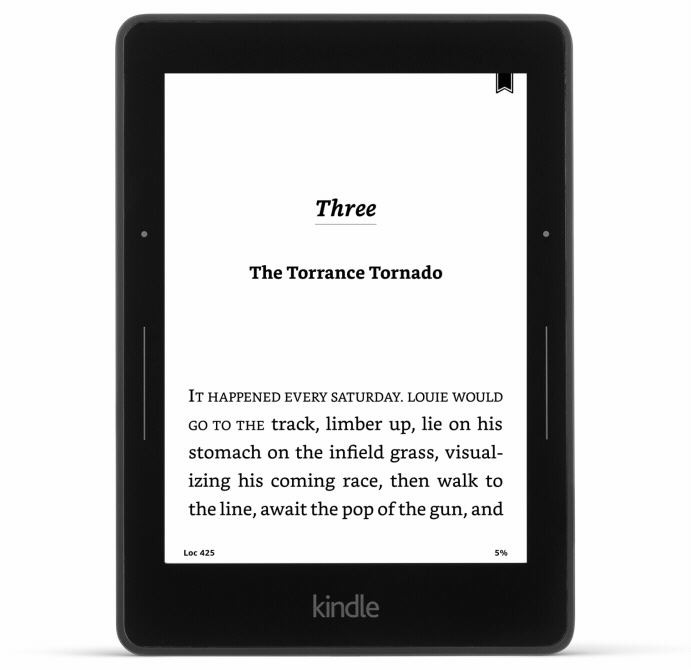 Go ahead, explore!
At a glance, easily recognize specific pages as you jump around. Pictures, charts, your highlights, and the layout of each page are easy to see with Page Flip's pixel-accurate thumbnails that automatically adjust as you change your font and margin settings.