I've been an avid reader from a young age. One of things I find myself doing, especially when reading non-fiction books is flipping back and forth between pages and referencing different parts of the book, re-reading parts I marked, referring back to images or charts. In digital books, that was hard to do, you would start flipping back or jumping around and quickly lose your current reading spot, it was much more difficult to just explore your book. 
At Kindle, we were looking for the digital equivalent of sticking your fingers in the pages of your book, having easy access to see the "visual landmarks" you would find by flipping through pages and recognizing at a glance which pages have certain pictures, your highlights, even just the shape of the text on the page. In 2016 we introduced Page Flip, a reimagined Kindle navigation experience that makes it easy to explore books while always saving your place. 
I took on Page Flip right when I joined Kindle, after another designer had begun the foundational feature definition and wireframes. From then on, I owned the UX and UI design and co-owned the feature definition, research and marketing.
Want to reference a chart or map on another page while you're reading? Page Flip "pins" your current page to the side of the screen when you swipe away from it to explore other parts of the book. Tap your pinned page to instantly jump back to it.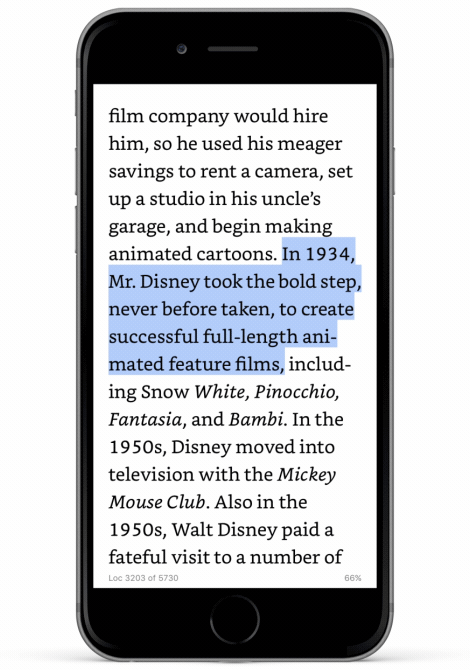 Get a bird's eye view of the book
Looking for a picture or a passage you've highlighted? Zoom out to get a bird's eye view of the book and quickly find what you're looking for.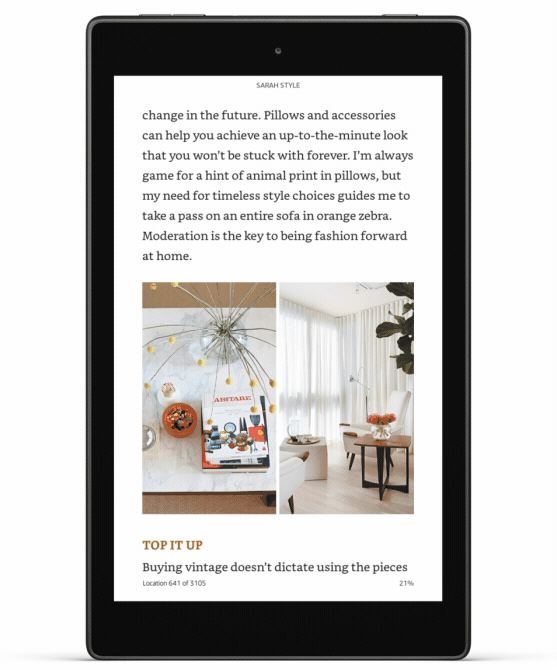 At a glance, easily recognize specific pages as you jump around. Pictures, charts, your highlights, and the layout of each page are easy to see with Page Flip's pixel-accurate thumbnails that automatically adjust as you change your font and margin settings.